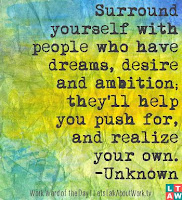 Until a few months ago, I didn't know a single person who was living the lifestyle I dream of. When I mentioned to family or friends what I was hoping to do, they were supportive, but none of them had ever done anything more than camp for short periods of time.
Now, though, I can chat with hundreds of full-time RVers at any time of the day or night. And if everyone else is busy or asleep, I can still be inspired by and learn from them.
In my search for others who were living the life I dream of, I first looked where I always look — books. On amazon.com I found a couple of books that looked promising and immediately ordered them.
While waiting for them to arrive, I googled "full-time RVing blogs" and similar terms; they yielded several blogs that I bookmarked and began reading.
Two of the bloggers mentioned a couple of different Facebook groups they are members of, so I immediately logged onto Facebook and requested to join those groups. Each group accepted me, and I now had blogs and Facebook groups to read.
When the books arrived, I read those and discovered a few more great blogs and another Facebook group.
Within the course of a few days and by following leads given both on Facebook and the first blogs I'd found, I had surrounded myself with hundreds of people who had the same dream I have and who acted on it.
Over the last few months, I've gradually added to and deleted from my list of blogs and groups as I figure out which ones best fit what I am looking for and which ones have the "atmosphere" I'm looking for.
I left one group, for example, because its most vocal members were often snippy and snide. Another group was less about the RV lifestyle and more about homeschooling while RVing. One of the blogs I stopped following focused primarily on photography, and another was filled more often with survivalist and anti-government talk than conversation about life in an RV.
I've whittled my Facebook groups down to four and the blogs down to five.
That may seem like an awful lot of reading, but I skim the Facebook posts very quickly, looking for topics that are of particular interest to me, and I only read a small fraction of what is posted overall. The writers of the blogs I follow post once or, at most, twice a week, and their posts are never very long. On the average, I spend about 20 minutes a day reading about the RV lifestyle.
This has proven to be time very well spent. I keep track of information about the reputations (quality and reliability) of various makes of RVs, and I've learned all kinds of great information that has led me to better narrow the parameters of my own RV search.
I've also created a few "documents" and cut-and-paste useful information from posts and blogs into those documents for future reference.
Being part of these Facebook groups and reading about other people's experiences on their blogs has been inspirational, eye-opening, informative, and entertaining. It's also fueled my own desire to purchase an RV and begin traveling as I can.
Surrounding yourself with like-minded, positive but realistic individuals can be immensely helpful. If you haven't yet found those people for yourself, I encourage you to search for blogs and Facebook groups of people who are doing what you dream of doing.
Go find "your people"!