I don't follow celebrity news and gossip, but a friend shared on Facebook the other day that Taylor Swift has been posting "cryptic" social media posts with references to 04.26 and has added a countdown calendar to that date on her website.
To be completely honest, I'm not a Taylor Swift fan. So when my friend stated that she couldn't wait to see what Swift was going to announce — a new tour, a new CD, perhaps the publication of her autobiography — I stifled a social media yawn and scrolled on past the post.
Well, Taylor Swift has nothing on me.
Last Friday I shared here that life had thrown me a big curveball, causing me to face a major decision.
It turns out the decision was not as difficult as I thought it would. One discussion with a trusted friend of over 35 years and reading chapter 1 — yes, just the first one — of The Next Right Thing (Emily Freeman), a book that I'd been planning to read anyway, was all it took.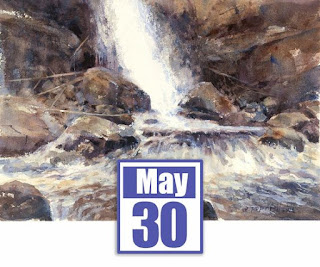 Lightbulb moment and peace.
But I'm not ready to share that decision with anyone just yet.
So, here you go.
05.30
Now if I can just figure out how to add a countdown calendar to every blog post!