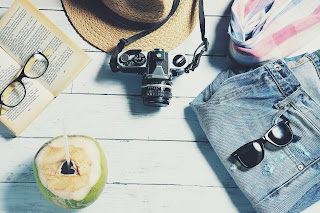 In about five weeks, depending on the birth date of my 3rd grandchild/2nd granddaughter, I'll embark on a trip that has been a dream of mine for several years. The journey from initial idea to the more-recent concrete steps take to make it happen has been circuitous, to say the least.
I've always loved travel, road trips in particular; fortunately, my husband felt the same way. We went on quite a few trips as a family of four and were looking forward to even more travel after our our nest emptied. Although that dream of travel dimmed a bit after his death, the itch never quite went away. I traveled a bit during vacations, and the closer I came to retirement the more I dreamed of longer, more frequent trips.
Less than a year after I retired, though, my daughter asked if I would want to babysit the little girl she had learned she and her husband were expecting. I put my travel plans on hold, sold my house, and moved to a different town to live in a mother-in-law's quarters in their house and babysit KG.
One evening, while knitting a blanket for my as-yet-unborn granddaughter, I began making plans for short road trips on weekends and longer trips when my daughter & son-in-law were on vacation.
Trial and error led me to purchase a Ford Transit Connect last summer; I removed the seats with the idea of slowly doing a "no-build build". In early Fall, my daughter shared that she was pregnant, and I decided that while she was on maternity leave, I would head out on my first "advanture" (I thought the term was corny, too, when I first heard it, but it's really grown on me).

My handyman extraordinaire Alex installed a wooden floor (to even out the floor and cover the seat brackets) and a Murphy bed; I made reflectix window coverings for all of the windows and purchased a Jackery power station, solar panels, and other necessities.
I also began plotting my trip. At the time, my daughter was working for "employer X"; between her maternity leave and accrued vacation time, she would be off work long enough for me to complete the 48-state loop I'd long been considering, using Randal Olson's optimum road trip across the US as my starting point. In December, my daughter was offered a new, much better position with "employer Y". Unfortunately, the job change meant that there was no accrued vacation time, and my travel time was reduced by four weeks.
No problem, I thought. I'll choose one large section of the loop for Spring 2021 and travel the remainder on vacations to come. Then Christmas arrived, and I opened my present from my children & their families — a week-long vacation whole-family vacation at the beach. Scheduled for mid-way through my US travels.
I was so excited about the trip and more than happy to adjust my itinerary so that the family trip fell in the middle of my loop. Then I learned that my grandson's 1st birthday party would be held two weeks before the whole-family vacation. And of course, there's absolutely no way I'm willing to miss E''s birthday party! Instead of one loop with a family vacation in the middle, my plan needed to include a weekend trip back to my starting point before I headed out again.
In less than three months, my one long loop of the 48 contiguous states became a three-legged trip through three-four states per leg. The more I thought about it, three shorter trips connected by time with my family sounded much better than one extended trip.

But one slight hitch remains. Because I don't know when my new granddaughter is going to make her appearance, I have no idea when I'll be able to leave on my first trip or, in fact, the exact dates of any of my three legs!
As a result, I can't make reservations at campgrounds or specific plans for visiting friends along the way. What I have been able to do is plan three tentative routes. Other than that, everything is up in the air.
For someone who has for the vast majority of her life thrived on plans and schedules, my trip is shaping up to be quite the advanture.
As I prepare over the next few weeks to hit the road, I'll share more about my proposed journey with you every Thursday. Once I'm on the road, I hope — charged laptop and internet access both willing — to post daily.
I hope you'll ride along with me. We'll turn up the radio and sing along to oldies as we travel the back roads, exploring our beautiful country!