It's been nearly 10 months since I got the small package in the mail. It was sent by a Facebook friend and former high school classmate, and I couldn't imagine what it might hold.
When I unwrapped it, I found something I didn't expect: a small, green glass frog and several bookmarks with brightly-colored frogs scattered through lush green grass and
"F.R.O.G." in white script.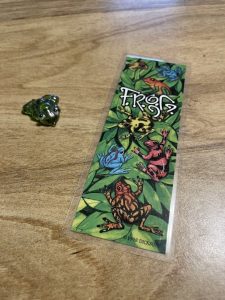 At first, I was confused. As a young girl, I had decided (based on a nickname given to my by my maternal grandmother — and that's a story for another day) to collect frogs. I had hand-carved frogs and glass frogs, ceramic frogs, and . . . well, I'm sure you get the point. But I couldn't figure out how the sender of the adorable little glass frog and bookmarks could possibly know that. She and I weren't really friends — more acquaintances — back in high school. And besides, just before entering 9th grade, I had packed away my frog collection, thinking it too childish for a high-schooler and certainly not a "cool" thing for a girl to collect. There was absolutely now way the sender of the package could no about my long-ago affinity for frogs!
Then I opened the letter included in the package and began to read.
The sender indicated that she had read my social media posts, in which over the past six-plus weeks I shared how difficult the period between the 3rd week of July and the 1st week of August is for me. I had posted, as I had for the 12th year in a row, that the "anniversaries" within the 43 days from when my husband was diagnosed with cancer to when he passed away were rife with memories, none of them good.
She shared how a friend had sent her a frog after her mother passed away and explained then that it was a reminder to Fully Rely On God. She want on to share (and I paraphrase) something to the effect that she and her mother had shared a close relationship but that she had chosen to not go back and dwell on her loss over and over, year after year.
I never felt like she was chastising me for my own remembrances and posts about my husband. Instead, I was touched that she acknowledged my grief and cared enough to offer to me something that had she had found beneficial.
I laminated the book marks and use one each in whatever devotional, novel, and nonfiction book (yes, I always have at least 3 books in progress) I'm reading at the time. And that little, green glass frog has sat front and center on my desk every day since I received it.
This year, when July arrived, I didn't feel the horrible weight of dread that I'd felt each of the previous 12 Julys. I acknowledged internally what was on the horizon, and that was it.
You might say that it was the passage of time that made such a difference, but I know differently.
You might also think that I'm now going to claim that it was the little green glass frog and bookmarks that made the difference. I won't.
What made the difference was someone reaching out compassionately, sharing her own story, and helping me to redirect my focus from what I've loss to Who is sustaining me.
F.R.O.G.