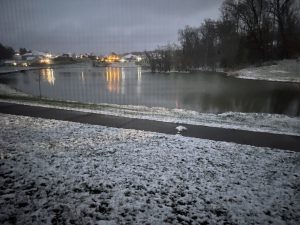 This was the view from my bedroom window at 6:15 this morning. If friends' facebook posts are any indication, I'm in the minority when I say that I was not at all pleased to see the white stuff.
It's not that I don't like snow; rather, I don't like the cold temperatures that are necessary in order for it to exist.
And so I puttered around my apartmentette all day — in my pajamas and slippers, no less. I rearranged several pieces of furniture, watched college football, read, and wrote a few letters.
It's been a wonderful day, white stuff and all!