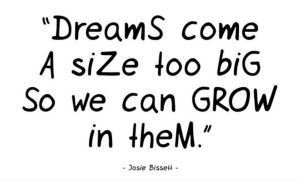 When I was growing up, I was a dreamer. Oh, not the stereotypical dreamer with my head in the clouds and not grounded in reality. I was a practical child and teen, but I had dreams.
Almost all of those dreams were inspired by books. Books which the protagonist (main character, for the non-reader folks) had a bosom buddy or two were my favorite. You see, I was more than a bit socially awkward and didn't have a best friend after 2nd grade, when our very large parochial-school class was split, dividing my former best friend and I, and I wasn't invited to parties and stuff in high school.
From the time I entered college until relatively recently, I didn't have many dreams. Instead, I had goals. Things I wanted to accomplish. At first, my goals were to earn the appropriate degree and get a teaching job. After I got married, those goals had to do with child-rearing and homemaking and the stuff of life.
It wasn't until 4+ years after my husband passed away — once the initial fog lifted and then the initial intense grief dulled a bit — that I began to dream again. Not in response to books this time; I began to dream as a way to find ways to make the life I had been thrust into more bearable.
And so, for the past 9 years, I have dreamed.
It didn't come easy at first. I often had to force myself to look beyond my circumstances and dare to think of things I might like to do or accomplish.
As I look back now on those first dreams, they seem fairly "small", for want of a better word. I can see now that they were easily attainable, but when I went back this past month and re-read some journal entries from the time, I see they seemed huge at the time. My first solo vacation was daunting, for example; today I could plan and execute that same excursion with ease.
As those "smaller" dreams were realized, my dreams began to grow. They seemed unattainable, but I wrote them on my "dream list" anyway. And guess what? Some of those dreams have already become a reality.
The 2-week European trip became, in reality, a semester (with pay) there with a 10-day backpacking adventure as icing on the cake. The dream to visit all 48 of the contiguous states "sometime" was over halfway realized nearly 2 years ago via a 6-week, 6100+-mile vancamping trip through the 31 states in the eastern 1/2 of the US (I'll tackle some of the remaining 27 states this summer).
And if I — an older, single woman on a very-limited income — can dream big and see her dreams come to fruition, anyone can!
So dust of your dreams and add some more to the list. Don't forget to make them big. So big you can grow into them!